CUP OF FUEL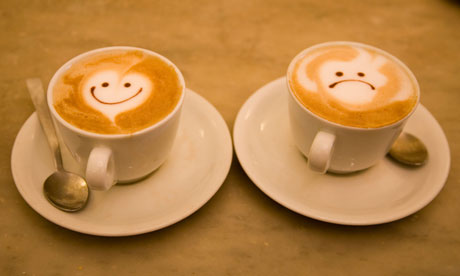 I am addicted to coffee (but no, one of my resolutions was NOT to give it up). I don't have many addictions left at this point in my life (perhaps bad TV, dark chocolate and cleaning), but I can honestly say that my love affair and dependence on coffee has become a very palpable thing (and once a strict decaf girl has totally gone out the window). I'm not ready or willing for some 12 step java weaning program (so don't plan any interventions), and not only does this addiction make me very happy, but it essentially fuels my lifestyle; let's be honest, with the King in my life, herbal tea is just not going to cut it.
Like most things, it is when I leave my routine (or step outside London) that I realize how full on my addiction really is. Suddenly my head is awash with, oh my GOD, where am I going to get my coffee? And when I say coffee, I should be specific here. I'm talking latte, cappuccino, macchiato etc. I am not a drip girl; and it's not just any coffee but MY kind of coffee, my exact cup of coffee of choice. Because as any addict will tell you, coffee is an art form, you do not just stumble into any old coffee place and expect your fix to be satiated. [Trust me, some people's interpretation of coffee is downright frightening - muddy, bitter water is NOT coffee, at least not to me].
Like any good addict, in my neighborhood I have my places. And I will go out of my way to go to those places based on the cup of java that they serve. Conversely, there are also places that while cute and full of atmosphere, if the coffee sucks, I'm not going back. I've had to say goodbye to some very adorable establishments over the years.
Ask any coffee drinker (and one doesn't have to a genius to realize there is a serious coffee cult out there) and they will happily tell you where they think is the best place to get the ultimate cup of coffee. In Los Angeles, Intelligentsia is apparently THE place. I drove an hour out of my way to get a cup of coffee from there and fine, it was very good, but the pretentiousness kind of killed it for me (there was ten minute line to get served and we had to wait outside the door. Outside like caffeine addicted dogs. Yeah, bite me). In London, I'm partial to a small place near my house on the main drag called Madam Chi. I don't know what 'Madam' does to her lattes, but they are some of the best I have had anywhere.
Of late, it has gotten to the point where I have started dreaming about coffee. I know it's totally demented. It's not like I'm sitting in a room conversing with deep roasted beans or anything (although think of how good that room would smell!), but in my dream, I'm waking up to the greatest cup of coffee out there, and for some reason this makes me smile. I suppose it's also the ritual involved; the walk to your favorite haunt, getting your first cup to start the day, negotiating with the King over how many croissants he can have.
The problem is, when this ritual is disturbed in any way, or you get some new barista in training behind the counter it can seriously alter the day in a profound way. There is simply nothing worse than starting the day with the wrong cup of coffee. Nowadays, I just pretend it didn't happen and start from scratch (I always get extra cleaning done on those days as I'm extra full of pep). At this point when the King sees a mug – and it can be filled with just about anything - he looks at it, smiles and says, 'Mamma's coffee.'